QUICK DELIVERY
Don't wait around for your concrete. Same day or next day concrete delivery is available across London and Surrey.
ORDER FROM 1㎥
How much concrete do you need? We deliver in volumetric trucks, meaning we can deliver as little or as much as you need.
COMPETITIVE PRICES
You've got a budget, and we've got a price that won't break it. Our concrete and screeding products are priced competitively, without compromising on quality.
CONCRETE SUPPLIERS LEATHERHEAD 
We at Singh Concrete understand the frustration you feel when you are not able to meet deadlines because of late deliveries. With pre-mixed concrete in Leatherhead, you'll be able to get hassle-free concreting for a low price, regardless of the size of the construction or your location. We strive to achieve our goals of becoming Leatherhead's most well-renowned concrete supplier for both DIY enthusiasts and commercial project site managers, by providing all of our clients with the greatest quality of concrete materials being delivered to you as quickly as possible, creating a hassle-free working environment for your site project. With our experience as a leading concrete supplier in Leatherhead, we can determine the correct amount of concrete that is tailored to your requirements. Take care of your construction project with the help of Singh Concrete. 
Still unsatisfied? Get in touch with us for more information on our concrete services.
VOLUMETRIC CONCRETE LEATHERHEAD
Volumetric mixing is the best solution for those in need of high-quality concrete for larger-scale commercial projects. Compared to traditional methods of mixing concrete in Leatherhead, volumetric mixing is more flexible and cost-effective. There's no need to worry about additional expenses, as it only mixes the exact amount needed for your site project. This method is also known to be eco-friendly as it does not result in any waste being produced. 
The system also eliminates the need to pay for part loads and eliminates the possibility of ordering too much or not enough concrete, which can have a negative impact on your project. Singh Concrete are able to mix the concrete on-site, leaving no traces behind as the materials that are used to make your mix are added in the exact quantity required.
Singh Concrete are able to deliver concrete materials quickly and easily with volumetric mixers. The materials can be stored in a larger capacity, which, in turn, enables you to produce more concrete. By using a volumetric mixer instead of a drum mixer, you can produce nearly twice as much concrete. Consequently, larger projects can be completed faster.
WE SUPPLY DOMESTIC CONCRETE IN LEATHERHEAD
What makes us stand out from our competitors? We take all types of industrial projects into consideration, no matter the size of your project. Whatever your concrete supply needs are, from laying foundations for your home to installing concrete driveways in Leatherhead, we're the smart choice. The Singh Concrete company is one of Leatherhead's largest domestic suppliers of concrete and screed. No matter what size your project is, we can provide you with top-quality domestic concrete, allowing you to complete it in a high-quality manner, whether it is for a residential or property development project.
A wide range of ready-mixed concrete mixes is available for domestic and residential projects, including: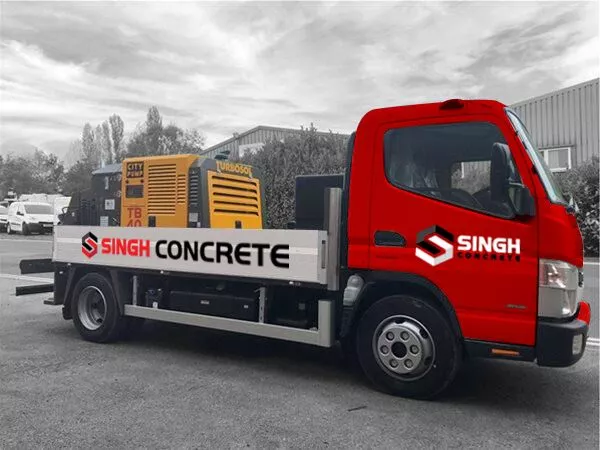 RELY ON US FOR CONCRETE PUMPING IN LEATHERHEAD
Singh Concrete's team of experienced professionals is available to assist you in finding the right residential concrete mix. Furthermore, we can estimate the amount of concrete needed for your site, reducing waste. Whatever quantity of concrete you need, Singh Concrete will provide it to you in the highest quality. A modern mixer transports your concrete to your location after we mix it professionally at our batching plant. We provide 24-hour delivery windows for Leatherhead customers.   
There's no need to mix concrete when ready-mix arrives at the site, which means you can start working as soon as the concrete arrives. As soon as the concrete is on-site, it can be transported using a concrete pump to wherever it is needed. 
Want to learn more about the concrete services we provide for residential and commercial projects? If so, then contact Singh Concrete today – we're more than happy to assist you.
Dedicated to supplying you with the highest quality commercial concrete, delivered 24/7.
Call our team today on