Concrete Suppliers Camberley

Singh Concrete has gained a huge reputation over the years throughout Camberley as a leading concrete supplier for all types of commercial and domestic projects. We have managed to build and maintain professional, long-lasting relationships with all of our industrial clients due to our outstanding 5-star rated concrete services and amazing customer support being offered by our concrete experts. Whatever your needs are, whether it's for the laying of patios and driveways or the construction of new homes, we have a comprehensive range of concrete services to suit you. We strive to provide quality service from the beginning to the end of every project, along with the technology of our advanced trucks for on-site mixing, and our professional, experienced and approachable staff. Since we specialise in concrete mixing, we understand the importance of having your concrete delivered to you on-site, and on time. As a result, you can count on us for the highest quality concrete materials and aggregates as well as prompt delivery times to assure that your project runs smoothly and cost-effectively. !  
Always On Time – Volumetric Concrete Suppliers
Are you in need of volumetric concrete for your industrial project in Camberley? If so, then you've come to the right place. For large-scale projects, volumetric concrete is the most suitable concrete, and its importance cannot be underestimated. 
Using volumetric concrete has many benefits, such as its durability and being able to minimise waste generation by requiring fewer ingredients than many other concrete types. A volumetric concrete mixer allows us to mix materials on-site since the materials can be transported in their dry form. This process enables us to make a precise concrete mix of your required amount and allows us to make any adjustments where necessary such as adding more to your mix for FREE if more is required.  
Our on-site mixing capabilities allow us to provide you with the exact amount of concrete that has been calculated for your project. After delivering the dry materials to the job site, we mix them in front of our clients for complete satisfaction. This allows project managers to complete their work efficiently whilst also sticking to deadlines, as we understand how frustrating it can be when your  materials aren't delivered on time. 
To find out more about our domestic concrete mixes, simply contact us today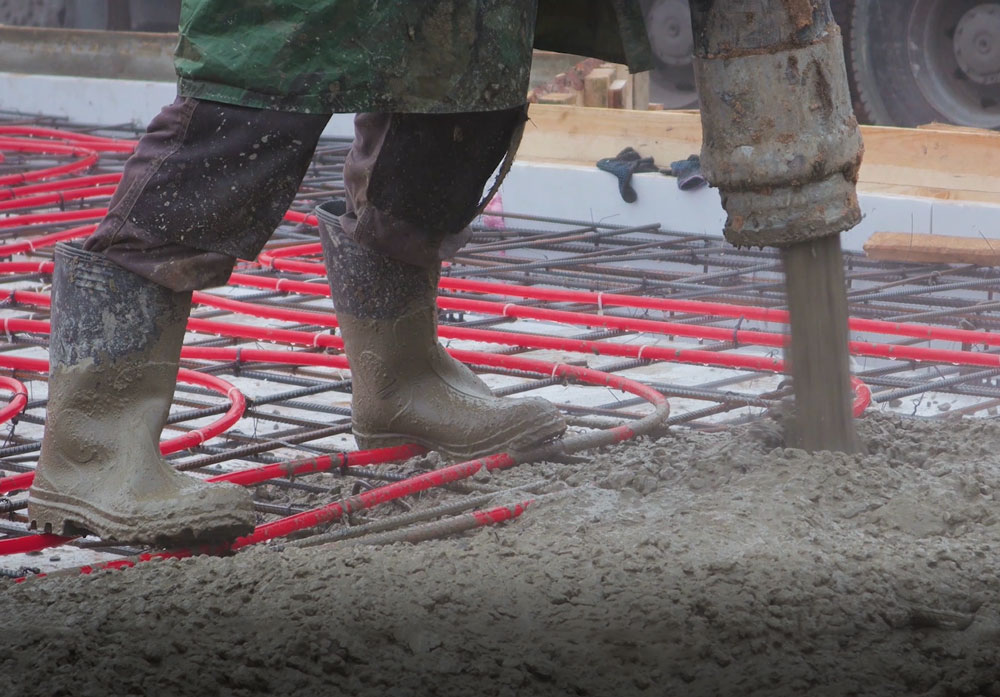 Concrete Pump Hire In Camberley
Allow Singh Concrete to make your life easier when you choose to rely on our concrete pump hiring services in Camberley. Our pumps are operated by fully trained professionals and have the ability to pump as much concrete desired by our loyal customers. Our pump Hiring Services include: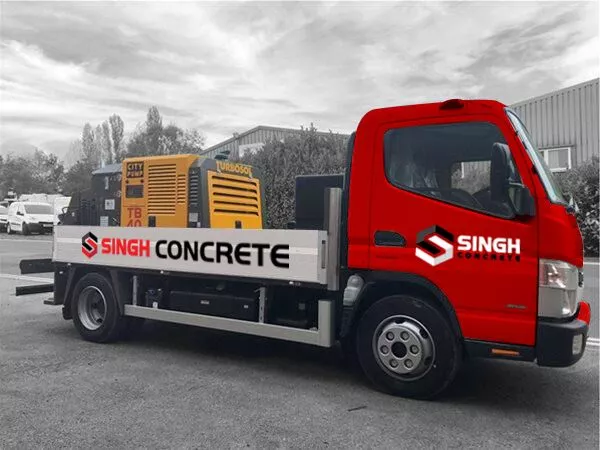 What is their main purpose, you may ask? Concrete pumps are far more precise. Their main purpose is being able to apply concrete in areas which are least accessible on-site, such as inside houses or back gardens, reducing the production of waste whilst also requiring less labour – a time and cost efficient technique which provides sustainability and flexibility. 
Providing a highly professional ready-mix concrete pump trucks service for domestic clients is available for areas that are difficult to reach. The services we provide for commercial projects include both line pumps and boom pumps. The use of line pumps can be beneficial when reaching footings or underpinnings at the rear or lower levels of a construction site. In addition to creating slabs on elevated levels, boom pumps are also useful for reaching inaccessible areas.
YOU ARE OUR PRIORITY
Operating throughout Camberley, Guildford and the surrounding counties, we're determined to provide you with a service that best suits your needs. In a hurry to get the job done? Call our team – we offer fully flexible ready-mix concrete services including same-day or next-day delivery on most of our products. We even offer a 24/7 delivery service if you require it. 
Here at Singh Concrete, we're committed to providing you, our customers, with 5-star service. It's been a priority of ours since the day we started trading – whether you're a DIY enthusiast or working on a commercial or industrial-scale project. Our team is on hand to advise you on the most appropriate concrete or screed solution for your project. This means that you can benefit from relying on a concrete supplier with decades of experience in the industry.
For more information on our concrete services, feel free to contact us today –  we'll be more than happy to assist you.
Need high quality ready-mix concrete delivered in Camberley? Look no further than us.
Call us on