QUICK DELIVERY
Don't wait around for your concrete. Same day or next day concrete delivery is available across London and Surrey.
ORDER FROM 1㎥
How much concrete do you need? We deliver in volumetric trucks, meaning we can deliver as little or as much as you need.
COMPETITIVE PRICES
You've got a budget, and we've got a price that won't break it. Our concrete and screeding products are priced competitively, without compromising on quality.
The right concrete for your commercial or domestic project
Whether you're working on a domestic project – such as a driveway installation, or a large-scale commercial project – laying the foundations on a new housing development, we have the right mix of concrete to help you complete the project efficiently, cost-effectively, and to the highest of standards. Why not get a free quote? Simply use our online concrete value calculator, and then get in touch with one of our team.
Need your concrete in a hurry? Same or next day delivery is available on most of our concrete products.
What you can expect from us:
Need to change the properties of your concrete mix? At Singh Concrete, we offer a range of chemical admixtures that can be used to improve the behaviour of the product depending on a range of factors.
You can leave the science to us! Adding chemical admixtures to your concrete product can be technical. That's why we can take care of it for you, simply let us know that you'd like us to add appropriate admixtures to your concrete or screed and let us know a little bit about your project.
The admixtures that we use primarily fall into ASTM C494 specifications under the following 7 categories:
Our fleet is at your service
Concrete mixers
Working to a tight deadline? Our state-of-the-art concrete mixers are designed to facilitate quick on-site mixing of high-quality concrete. And you can be assured of the quality – here we turn to computer science – all the raw materials are held in separate compartments ready to be mixed on site via a calibrated computer.
The use of modern technology on our concrete mixers allows us to produce any grade of concrete, in any quantity, on-site, meaning that you only pay for what you use.
Only pay for what you need
Depending on the type and scale of your project, you will require a certain grade of concrete and specific volume.
Concrete line pump
Tricky space? Difficult site access? Don't worry. The concrete line pumps used by our specialists here at Singh Concrete mean we're well equipped to deal with such challenges. We mount them onto smaller HGVs, which allows us to get your concrete products into small sites and difficult to reach places.
Want to save on manpower and drive production efficiencies?
Our ground line pumps can pump concrete to a distance in excess of 140 metres. Our city pumps are ideal for use in those more difficult to access areas, over long distance runs and could be exactly what you need if you're looking to cut production costs by reducing the demand for manpower.
Concrete boom pump
Whether you're looking to save time, or have difficult to reach areas on your site, our concrete boom pump will make sure that your concrete is delivered to exactly where you need it.
With an extensive reach, the Singh Concrete boom pump can take your concrete up and over objects such as fences, walls, alley ways, outbuildings, and much more, saving you money on costly labour charges.
Grab hire
You'll have your waste cleared in no time with our huge capacity grabs – each of them hold up to 16 tonnes of waste material.
Suitable for a huge range of site waste including rubble, hardcore, and inert waste, these grabs have an impressive 6 meter reach and will undoubtedly save you money over hiring a skip.
Discover more about our 5-star grab hire service.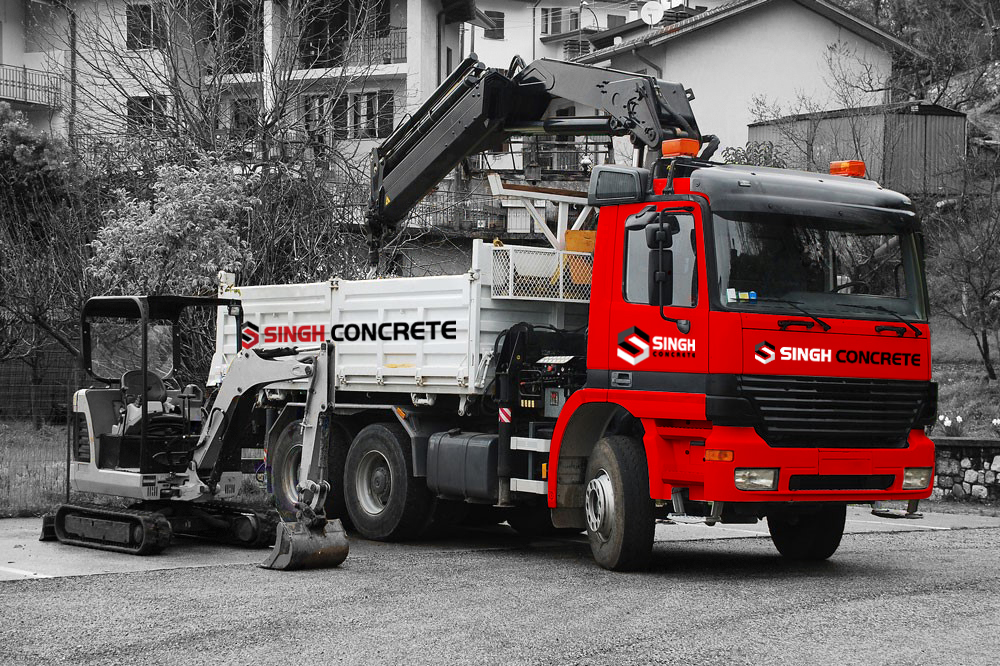 Tippers
Shift it, tip it. Whether you need to move material from one location to another, or you need to collect some aggregates for your project, our fleet of tippers are the efficient and cost-effective solution.
Supplying you with the high-quality concrete that you need for your commercial or domestic project.
Call us on